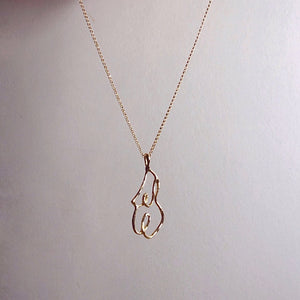 This is the solid gold version of Figure Form Body Necklace. Wear it as a daily reminder to embrace who you truly are, and as a source of inspiration as you continue to blossom through your personal journey. 
1.1 x 0.3-inch pendant & 18-inch chain (please email about inquiry for other chain lengths)
Material Options
10k Solid Yellow Gold

10k Solid White Gold

10k Solid Rose Gold

14k Solid Yellow Gold

14k Solid White Gold

14k Solid Rose Gold
Maker's Note
Made to order, please allow 1-2 weeks to ship.
All pieces are hand-crafted from raw material and their unique imperfections make them each one-of-a-kind. While alike, no two are identical, therefore please allow for some slight variations between each piece.